100% Acquisition of Kessel Resources Pty Ltd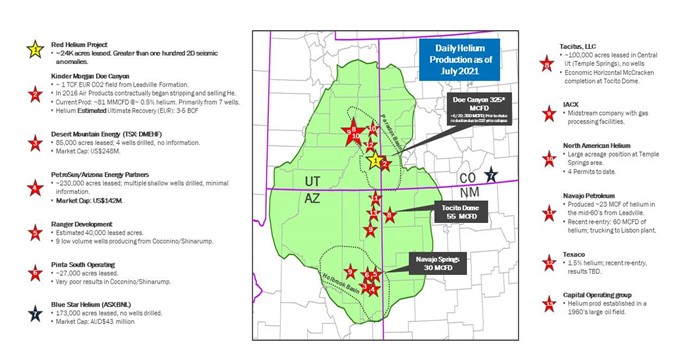 Strategy: Binding agreement to acquire 100% of Kessel Resources Pty Ltd ("Kessel"), a Utah-focused helium company, that provides Grand Gulf with:
Exposure to the burgeoning helium industry in a known helium producing area – drill-ready targets and proximal to dedicated infrastructure
250,713 acre AMI with over 23,600 acres (private leases/Utah state leases) leased in drill-friendly Utah (the Red Helium Project) – leasing ongoing with objective of 35,000 acres
Structurally high to and 8 miles west of Doe Canyon Helium Field and Plant (Air Products Inc – market cap: US$60B)
190 km's of 2D seismic across the AMI has been acquired and processed – drill targets established – trap identified is larger than the Doe Canyon Field
Historic wells with helium concentrations within and proximal to the AMI
20 miles south and connected by pipeline to the operational Lisbon Helium Plant
Current helium pricing is approximately $280/mcf
ESG: Potential for significant 45Q Tax Credit revenue through sequestering of produced CO2
High Quality Management Team: Experienced Kessel oil and gas geologist Keith Martens to join the Board of Grand Gulf assisted by highly experienced partners and US-based operators, Four Corners Helium.
Liquidity and Financing: GGE to undertake a capital raising of A$3.3 million to fund the acquisition and provide working capital to drill and cover transaction costs.
Board & Shareholder support: The respective boards and major shareholders of GGE and Kessel have approved the transaction with the deal expected to close in September 2021.
---