East Texas Eagle Ford (50% WI)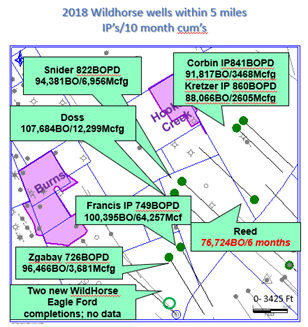 GGE has a 50% WI in 1,117 net acres in the Eagle Ford in Burleson County, Texas.
GGE has the potential for up to 6 Eagle Ford and 1 Austin chalk location with horizontal wells within the 5-8,000 ft range.
GGE's nearest operator, Wildhorse Resource Development, recently was acquired for US$4B by Chesapeake.
Wildhorse has recently drilled and completed Eagle Ford wells with initial flowing rates of up to 840BOPD within 1 mile of our acreage and have stated EUR's of 620,000 boe with 82% oil ratios.
Burleson County received a premium to West Texas Intermediate pricing.